A HEALTHY MOUTH STARTS EARLY!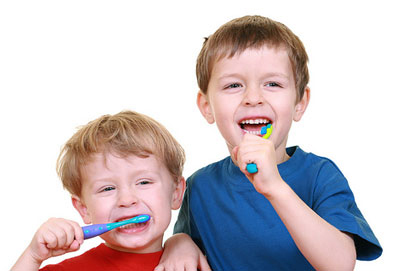 When should my child first be seen by the dentist?
The recommendation from the Canadian Dental Association is to have your child seen by the dentist within 6 months of the emergence of their first tooth or by the age of one.
When should my child start brushing?
So as to build healthy habits, the Canadian Dental Association recommends initiating mouth care even before the arrival of teeth. Use a soft, clean damp washcloth wrapped around your finger or a soft baby brush. Use this brush or towel to gently massage the gums clean. Once your baby's first tooth arrives you may use a pea sized amount of tooth paste when brushing. Be sure to have your child spit out the toothpaste after brushing. Children should be assisted with oral care until 3 years of age at which point supervision should be sufficient to ensure good oral care.
Does toothpaste really matter?
Check the toothpaste box for a Canadian Dental Association check box symbol which ensures the toothpaste has adequate fluoride content. Swallowing an excess amount of toothpaste may result in fluorosis in small children, the CDA recommends supervising children while brushing under 6 years of age. Children under 3 years of age should have their teeth brushed by an adult using only a pea sized amount of toothpaste.
What is the best toothbrush for my child to use?
The Canadian Dental Association recommends using a brush with soft, rounded bristles that is an appropriate size for your child's mouth.
When will the first tooth arrive?
Baby teeth emerge within the first 6-10 months of life. Adult teeth (permanent teeth) can be expected between the ages of 6 and 7 typically, with the loss of baby teeth around age 6.
To wiggle or not to wiggle?
It is okay to wiggle a tooth so long as no forceful pressure or pulling is used. A tooth forced out prematurely may result in more bleeding then when it is allowed to come out naturaly.